### EN follows Dutch ###
🔥 Van 11 tot 18 oktober blokkeren we het hart van Den Haag en verklaren de NOODTOESTAND VOOR HET KLIMAAT. We eisen dat de Nederlandse regering haar verantwoordelijkheid neemt: DOE WAT NODIG IS en maak Nederland KLIMAATNEUTRAAL IN 2025 OP EEN RECHTVAARDIGE MANIER.
👀 Ter voorbereiding op deze massale actie organiseert XR Amsterdam 3 mobilisatiedagen, op 26, 3 en 9 oktober. Deze dagen zijn bedoeld voor nieuwe en oude rebellen, om getraind te worden, zich voor te bereiden op de actie, inspiratie op te doen, actiemateriaal te maken, affiniteitsgroepen te vormen of te versterken en nog veel meer. Naast een kernprogramma van lezingen en trainingen dat voor deze 3 dagen hetzelfde zal zijn, zullen er elke keer andere workshops en activiteiten zijn – zie het programma onderaan de pagina. MERK OP: Deel van het programma vind plaats op het Wilhelminagasthuisterrein! Ketelhuisplein 41, 1054 RD Amsterdam
🙋 Doe je mee? Vul dit formulier in zodat we zeker weten dat we genoeg ruimte hebben om iedereen op een veilige manier te verwelkomen. Voor 3 en 9 oktober graag je eigen lunch meenemen. Iets extra's voor een potluck mag ook:) Geef ook op of je mee wilt eten in de avond (er wordt gekookt op donatie, liefste cash, richtlijn 10 euro)! https://forms.gle/5LVFngku5rCXgLmV9
🔥 From October 11 to 18, we will block the heart of The Hague and declare a CLIMATE EMERGENCY. We demand that the Dutch government takes its responsibility: ACT NOW and make the Netherlands CLIMATE NEUTRAL IN 2025 IN A JUST MANNER.
👀 In preparation for this mass action, XR Amsterdam is organizing 3 mobilization days, on the 26th, 3rd and 9th October. These days are intended for new and old rebels, to get trained, prepare for the action, get inspired, make action material, from affinity groups, and much more. Next to a core program of talks and trainings that will be the same for the 3 days, there will be different workshops and activities each time – see the programme on this page below. REMARK: Part of the program will take place at the Wilhelminagasthuisterrein! Ketelhuisplein 41, 1054 RD Amsterdam
🙋‍♀️ Are you joining? Fill in this form so we can make sure we have enough space to welcome everyone in a safe way. For October 3rd and 9th, please bring your own lunch. Something extra for a potluck is also nice:) Also let us know if you want to join for dinner (cooking will be done on donation, preferably cash, guideline 10 euros)! https://forms.gle/5LVFngku5rCXgLmV9
Mobiday #1 26-09: https://xrebellion.nl/events/mobidag-ams-1
Mobiday #2 03-10: https://xrebellion.nl/events/mobidag-ams-2
Mobiday #3 09-10: https://xrebellion.nl/events/mobidag-ams-3
🗒 Programma mobilisatiedag #3: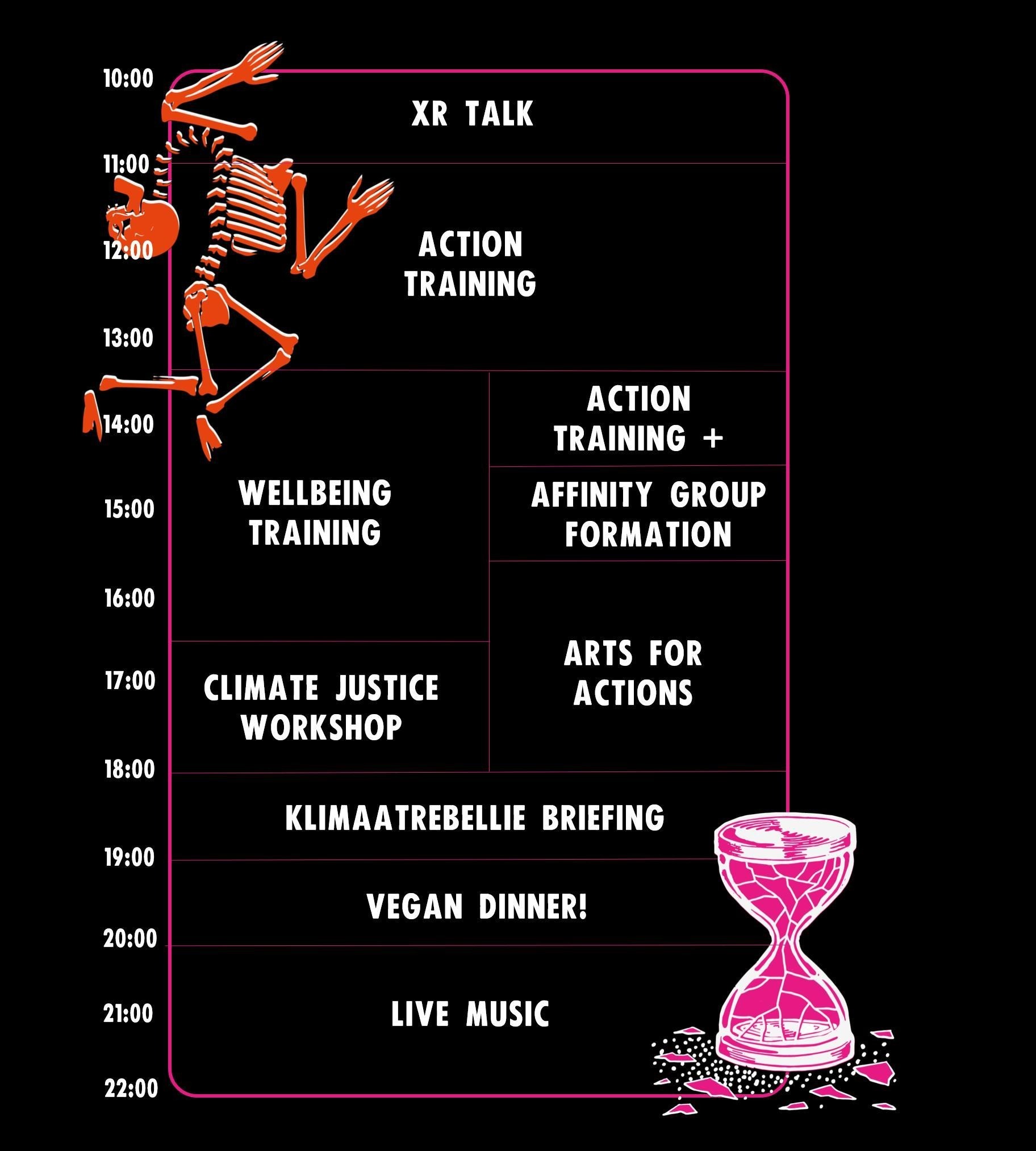 EN follows NL
💬 10:00 – 11:00 XR Talk (Buurtsalon Jeltje): Al gehoord van XR maar nog niet helemaal zeker of je je wilt aansluiten? Kom naar deze talk en hoor waarom we in verzet komen en hoe je mee kan doen.
✊ 11:00 – 14:00 Actietraining (Buurtsalon Jeltje): Tijdens deze training leer je alles wat je nodig hebt om mee te doen aan een XR actie: van de geschiedenis van burgerlijke ongehoorzaamheid (en waarom het werkt) tot juridische risico's. Iedereen die meedoet aan de actietraining verzoeken we om ook met vormen van affiniteitsgroepjes mee te doen!
🤸‍♂️ 13:30 – 14:30 Actietraining+ (WG-terrein): Schroef je rebel skills op met gevorderde actietechnieken zoals lock-ons.
🐝 14:30 – 15:30 Vormen van affiniteitsgroepjes (WG-terrein): Maak kennis en connectie met andere mensen die naar de Klimaatrebellie gaan en vorm een groepje met gelijkgestemden om samen deel te nemen aan acties.
💚 13:30 – 16:30 Wellbeing training (WG-terrein): Leer om stress (tijdens een actie) te voorkomen, herkennen en verminderen, bij jezelf en anderen die het zwaar hebben. Leer om situaties te de-escaleren. .
🎨 13:30 – 18:00 Arts for actions (WG-terrein): Samen creatief aan de slag! Kom banners en actiematerialen maken om mee te nemen naar de Rebellie in Den Haag! Veel handjes nodig, voel je vrij om wat zelfgemaakte dingen ook mee te nemen:)
🌍 16:30 – 18:00 Workshop klimaatrechtvaardigheid (WG-terrein): 'Eis 0', Interactieve workshop om de betekenis van klimaatrechtvaardigheid beter te begrijpen en het voorstel om het op te nemen als eis 0 te bediscussiëren.
⏳ 18:00 – 19:00 Klimaatrebellie actiebriefing (Buurtsalon Jeltje): Alles wat je moet weten om mee te doen aan de acties van 11-18 oktober!
💃 vanaf 19.00 Informeel programma (Buurtsalon Jeltje): Heerlijk veganistisch eten (op donatiebasis, richtlijn EU 10), live muziek, dansen
---
💬 10:00 – 11:00 XR Talk (Buurtsalon Jeltje): Heard about XR but not sure about joining yet? Come to this talk to learn why we take action and how you can contribute
✊ 11:00 – 14:00 Action training (Buurtsalon Jeltje): This training will cover everything you need to know before joining an XR action, from the history of civil disobedience to legal risks. Anyone who participates in the action training, we ask that they also participate in formation of affinity groups!
🤸‍♂️ 13:30 – 14:30 Action training+ (WG-terrein): Level up your rebel skills by learning more over action techniques
🐝 14:30 – 15:30 Affinity group formation (WG-terrein): Get to know other people joining the klimaatrebellie and form a group of like-minded people to take part to actions together.
💚 13:30 – 16:30 Wellbeing training (WG-terrein): Learn how to recognize and deal with stress, what you can do for others during an action, and how to de-escalate tense situations.
🎨 15:30 – 18:00 Arts for actions (WG-terrein): Help make banners and arts for bringing to the klimaatrebellie in the Hague! Feel free to bring some of your own-made stuff with you:)
🌍 16:30 – 18:00 Climate justice workshop (WG-terrein): Demand 0, Interactive workshop to understand the key concepts of climate justice and discuss the proposal to include it as a 0th demand
⏳ 18:00 – 19:00 Klimaatrebellie action briefing (Buurtsalon Jeltje): Everything you need to know to participate in the actions in the Hague 11-18 October!
💃 from 19:00 Informal programme (Buurtsalon Jeltje): Vegan dinner (on donation basis, guideline EU 10), live music, dancing
Venue
Buurtsalon Jeltje
Eerste Helmersstraat 106N
Amsterdam, Nederland, 1054 EG