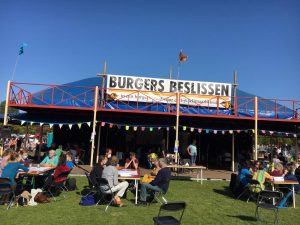 (English description below)
Hoe nemen we beslissingen? Hoe kunnen we ervoor zorgen dat verschillende stemmen worden gehoord? En hoe kunnen we ruimtes creëren waar mensen samenkomen? De cirkel 'Toekomst van de Democratie' verkent dit soort vragen.
Met de focus op 'deliberatieve democratie' en 'Zelf-Organiserende-Systemen' willen we op een inclusieve, effectieve en veerkrachtige manier samenwerken. Dit doen we door ruimte te creëren voor dialoog, proceswerk en 'sociocratische' besluitvorming.
Ben je geïnteresseerd in het samenbrengen van mensen? Het faciliteren van betekenisvolle gesprekken? Of bent je geïnteresseerd in besluitvormingsprocessen en organisatiestructuren? Kom dan naar de open bijeenkomst van 'Toekomst van de Democratie'. We zijn een imperfecte leergemeenschap, die leert terwijl ze verkent en experimenteert. Experimenteer je mee?
In de Open Meeting zullen we terugblikken op eerdere activiteiten en geven we een voorproefje van wat we in de toekomst zouden willen verkennen.
*Ben je geïnteresseerd in Burgerberaden, Strategische ontwikkeling of contact met politici? Misschien is de cirkel 'Politieke Strategie en Verandering' iets voor jou! politicalstrategy@extinctionrebellion.nl
————————————–
How do we make decisions together? How can we make sure that different voices are heard? And how can we explore group-dynamics, and create spaces where people come together? The 'Future of Democracy' circle explores these kind of questions.
Focusing on 'deliberative democracy' and 'Self-Organizing-Systems', we aim to collaborate in inclusive, effective and resilient ways. We do so by creating a space for dialogue, for process-work and 'sociocratic' decision-making.
Are you interested in creating spaces where people come together to connect with each other and have conversations that matter to them? Or are you interested in decision-making processes and organisational structures? Come and join the open meeting of 'Future of Democracy'. We are an imperfect learning community, that learns as it explores and experiments. Keen to join us?
In the Open Meeting we will do a recap of previous activities and do a preview of what we are excited about to explore in the future.
*Are you interested in Citizen Assemblies, Strategy Development or Political Liaison? Perhaps the 'Political Strategy and Change' circle is something for you! politicalstrategy@extinctionrebellion.nl