Democratic Renewal in Times of Crisis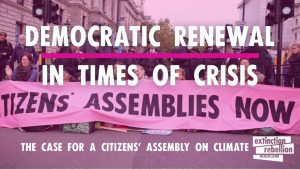 Interested in our third demand & strategic focus for the September Rebellion?
~Deze webinar is in het Engels! / This webinar is in English
Around the world, citizens entrust elected politicians to make laws and policies that keep them safe, healthy, and prosperous. But what happens when these elected officials fail to do what is needed to address problems that threaten our very survival?
This webinar will explore whether another way is possible: letting citizens decide. Citizens' assemblies (CA's) are increasingly emerging as promising alternatives that empower ordinary citizens to develop solutions to the climate and ecological emergencies. It will explain how CA's work and present evidence that shows citizens often make better and bolder decisions than their elected representatives do.
Registration
This event is open to everyone. Since attendance is limited to 100 participants, we'd like to ask you to sign up in advance through the link below. Don't mind the incorrect date & time in the link! https://us02web.zoom.us/meeting/register/tZMlcuiqqTMuGdAWJ7avT1hPwBdn9kApCLSf
Speaker Training
Do you want to learn how to present our third demand? Then also check out the Speakers' Training next week! https://www.facebook.com/events/326903525015021/!