XR Amsterdam – Open cirkel workshops
OPEN CIRKEL WORKSHOPS (English below)
Voor alle Rebellen, zowel nieuw als ervaren; laten we samen komen, met elkaar verbinden en leren!
Kom langs bij de Basis en ervaar wat de verschillende cirkels doen en waar ze naartoe werken. Een cirkel is een werkgroep met een bepaald thema, vaak onderdeel van een lokale afdeling, zoals XR Amsterdam.
Sluit je aan bij een cirkel als wat zij doen ook bij jou past!
Daarna, doe met ons mee in één of meer (mini) workshops voor inspiratie en groei:
Outreach & Geweldloze Communicatie workshop (door de Outreach & Training cirkel)
Ontwerp-je-eigen-actie brainstorm sessie (door de Actie & Logistiek cirkel)
en meer!
Wanneer?
Waar?
De Basis (Frederik Hendrikstraat 111c) (OpenStreetMap, Google Maps)
Programma
18:45 – 19:00 Inloop
19:00 – 19:30 Introducties van de cirkels
20:00 – 21:00 Workshops
21:15 (ongeveer) check-out/afronding
Vragen en aanmelden (niet verplicht): al_amsterdam@protonmail.com
---
OPEN CIRCLE WORKSHOPS
For all Rebels, new and experienced; let's get together, connect and learn!
Join us at the Base and hear what the different circles are doing and what's in store for the near future. A circle is a thematic working group, often belonging to a local chapter like XR Amsterdam.
Connect with a circle if you feel the theme fits you.
Then, join us in one or several (mini) workshops for inspiration and empowerment:
Outreach – Nonviolent Communication workshop (by the Outreach & Training circle)
Design-your-own-action brainstorm session (by the Action & Logistics circle)
and more to come!
When?
Where?
The Base (Frederik Hendrikstraat 111c) (OpenStreetMap, Google Maps)
Programme:
18:45 – 19:00 Walk-in
19:00 – 19:30 Circle introductions
20:00 – 21:00 Workshops
21:15 Check-out/closing
Questions? Or want to sign up? (not required): al_amsterdam@protonmail.com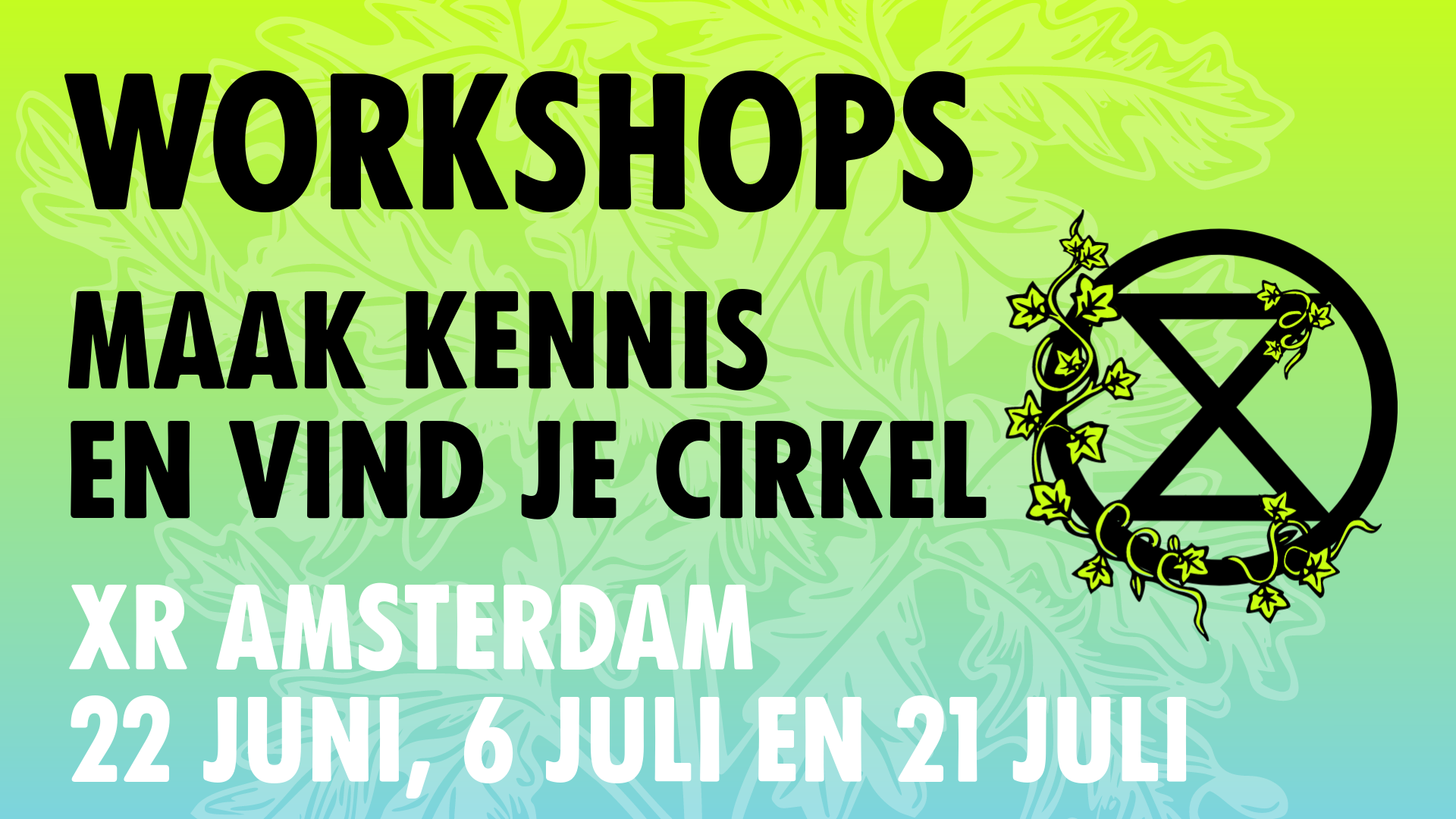 Locatie
Rebellenbasis
Frederik Hendrikstraat 111C
Amsterdam, Nederland, 1052 HN