A12 blockades Netherlands effective: Lower House asks cabinet for phase-out plan for fossil fuel subsidies
10/10/2023
Extinction Rebellion Netherlands will closely monitor implementation of motion and stands ready to resume actions
After 27 days of A12 blockades and more than 9,000 arrests, the Lower House is asking the cabinet to come up with a phase-out path for fossil subsidies. Extinction Rebellion welcomes the adopted motion[1], and concludes: civil disobedience works. In the coming months, thousands of rebels will keep a sharp eye on what's actually being done. They are ready to take to the streets again if necessary. Action training will also continue.
Spokesperson Tessel Hofstede: "Although this does not yet abolish fossil fuel subsidies, the significance of this step cannot be underestimated. Recently, with the A12-blockades, we caused shockwaves in society and made people look differently at fossil fuel subsidies. That social change has translated into politics today. And that is what we always wanted. We are proud of everyone who helped make that possible, in the A12 blockade, in the support demo and behind the scenes. Of course we will look critically at what happens next. Should it turn out that politics fails again, we will come back with much more."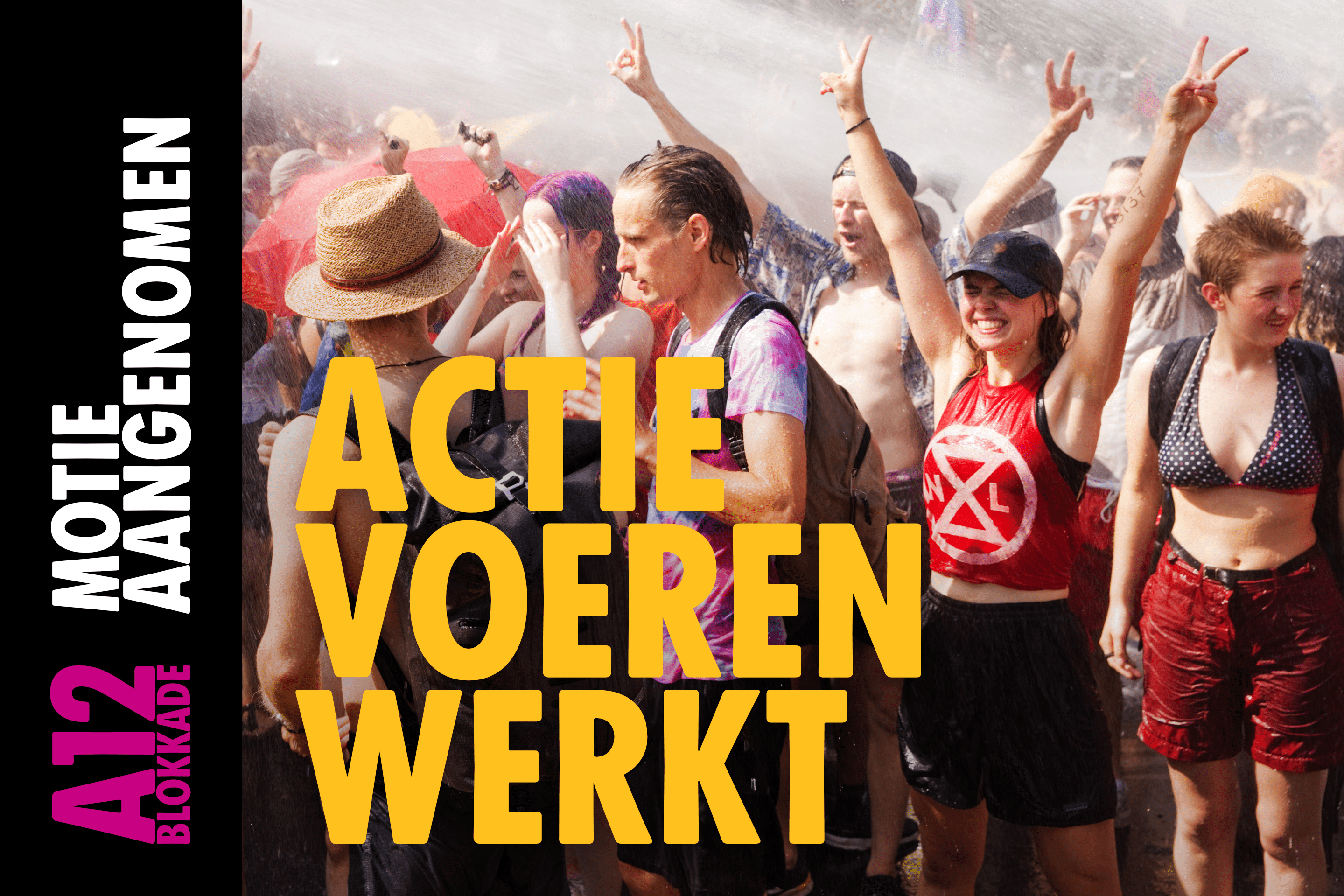 Looking back: the A12 campaign
Extinction Rebellion Netherlands has been campaigning against fossil fuel subsidies since 2020. For the first two years, those actions mostly took the form of peaceful occupations of ministries or the tax office. From July 2022, Extinction Rebellion blocked the A12 every few weeks. At first with dozens of rebels, then with hundreds, with thousands and finally with tens of thousands. From Saturday, September 9, 2023, Extinction Rebellion blocked the A12 every day, always at noon. 
The actions against fossil fuel subsidies have been unprecedentedly successful. Because of the tenacious way of campaigning, politicians were finally forced to be open about the size of the fossil subsidies. Where the government first claimed that the annual amount was 4.5 billion euros, it eventually turned out that 39.7 to 46.4 billion euros of fossil subsidies are provided each year.[2] It remains to be seen whether this would have come into the open without the actions of Extinction Rebellion.
The actions have also had a huge effect on people living in the Netherlands. Three years ago most of them did not know that fossil subsidies existed, now 73% say they are in favor of abolition.[3] Meanwhile, Extinction Rebellion is still growing tremendously, a growth that the movement will continue to drive with information meetings, action trainings and actions. The climate and ecological crisis rages on unabated, and much remains to be done before climate justice policies are implemented in the Netherlands. Extinction Rebellion will continue to work unabated for this.