English follows Dutch text
Op zaterdag 28 januari om 12:00 uur blokkeren wij met ruim 1000 mensen de A12 en roepen wij vanaf die plek massaal de regering op om te stoppen met fossiele subsidies! De fossiele sector wordt nog altijd met een jaarlijkse €17,5 miljard subsidies en belastingvoordelen gespekt, middenin de klimaatcrisis. Dat is olie op het vuur!
De afgelopen tijd zijn we via de media gesteund door honderden economen, klimaatwetenschappers en anderen. De weg van het fossiele tijdperk loopt dood. Hoog tijd dat het beleid kantelt. Help je duwen? Wie meer info wil over waar die 17,5 miljard oa terechtkomt, kan terecht op deze website.
Iedereen kan mee doen en iedereen is nodig. Doe mee in de rol die bij jou past!

Actievoeren is niet niks. Daarom sturen we onze rebellen graag goed voorbereid op pad en bieden we, zo kort voorafgaand aan de actie, twee mogelijkheden:
1.
Heb je géén Actietraining kunnen volgen en is dit je eerste burgerlijk ongehoorzame actie? Sluit je dan aan bij de supporters van de demonstratie, niet OP de A12 maar er NAAST, boven aan weerszijden langs de tunnelbak (Prins Clauslaan, ter hoogte van het Ministerie van EZK en het tijdelijke Tweede-Kamergebouw).
Meld je dan hier, de aparte Signalgroep voor supporters.
De supporters motiveren rebellen vanaf de zijlijn en geven body aan demonstraties. Zij volgen de actie live, maar horen niet bij de arresteerbare groep. Ook zij zijn van groot belang, want hoe groter de groep, hoe beter. Maak in de Supporters-signalgroep kennis met elkaar en spreek er bijvoorbeeld af om samen te reizen.
2.
Heb je wel een Actietraining gehad of al vaker meegedaan aan onze burgerlijk ongehoorzame acties?
Meld je dan hier, dan voegen we je toe aan de actie-Signalgroep.
Tot ziens op of bij de A12 aanstaande zaterdag!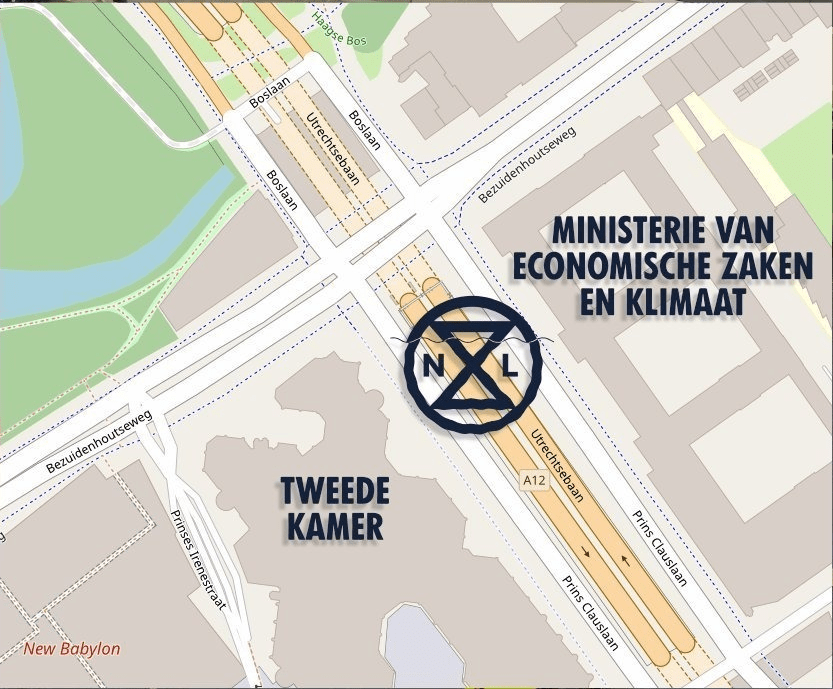 On Saturday 28 January at 12:00, we will block the A12 with over 1,000 people and from that spot we will massively call on the government to stop fossil subsidies! The fossil sector is still being bailed out with an annual €17.5 billion in subsidies and tax breaks in the midst of the climate crisis. That's oil on the fire!
Recently, we have been supported via the media by hundreds of economists, climate scientists and others. The fossil fuel era is coming to a dead end. It's high time for a policy tipping point. Will you help push? More info on the amount of 17.5 billion euro can be found on this website (in Dutch).
Everyone can participate and everyone is needed. Take part in the role that suits you!
Taking action is no small thing. That's why we like to send our rebels out well prepared and offer two options this short time before the action:
1.
Have you not been able to attend any Non Violent Direct Action training and is this your first civil disobedience action? Then join the supporters of the demonstration, not ON the A12 but NEXT to it, above on both sides along the sunken lanes of the A12 (Prins Clauslaan, near the Ministry of Economic Affairs and the temporary Lower House of Parliament).
Then sign up here, the separate Signal group for supporters.
Supporters motivate rebels from the sidelines and give body to demonstrations. They follow the action live, but are not part of the arrestable group. They too are of great importance, because the bigger the group, the better. Get to know each other in the Supporters Signal group and for instance arrange to travel together.
2.
Have you had a Non Violent Direct Action training or participated in our civil disobedience actions before?
Then sign up here and we'll add you to the Action Signal group.
See you on or near the A12 next Saturday!