Speech: "Als regeringen de honger-, gezondheids-, klimaat- en democratiecrises niet oplossen, zullen de mensen het doen".
27/01/2021
Op 26 januari 2021 hielden XR Landbouw, Extinction Rebellion en de Internationale Socialisten een protest bij de Indiase ambassade in Den Haag. Ze spraken hun solidariteit uit met de meer dan 100.000 Indiase boeren die ondanks bruut overheidsgeweld staken voor een menswaardig bestaan. Lees hier de volledige speech die werd gegeven (vertaling volgt na de Engelse tekst):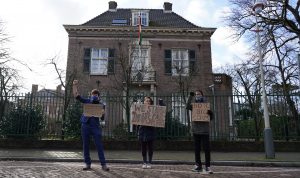 Good afternoon everyone. I'm very happy that both Dutch climate activists and international socialists have come together to stand up for Indian farmers whose livelihoods are under severe attack by their own government.
A government that prioritizes private interests and the billionaire class over working people and specifically farmers , farmers who form the backbone of the Indian economy and the world food supply.
More than a 100.000 farmers have been striking since last year November to protest a new set of laws that eradicates their minimum price protection and protects them from "free market terror"
This set of new laws has been crafted to serve India's billionaire class, specifically the shareholders of Adani and Ambani, and have been called a "death warrant" by the farmers unions. They have been designed to take away minimum price protection and make farmers extremely vulnerable to big money interests.
Hundreds of thousands of indian farmers have been striking and on the streets since November last year demanding that the new laws are repealed, political prisoners are released and a decentralized system of agricultural governance is implemented .
The farmers are also bravely protesting TODAY during the Annual Republic Day parade in Delhi. Today, they are bravely marching towards the parliament in Delhi demanding Mr Modi repeal his criminal laws at once.
Thus far, they protestors been met with tear gas, batons and overall excessive police violence. At least one protester has died today at when his tractor overturned as police fired tear gas.
Unfortunately, he is not the only casualty of state invited violence. Over the course of the last months more than 120 farmers have already laid down their lives at the hands of police violence incited by the right-wing government of Mr Modi.
120 brave farmers have died in the struggle for a dignified future.
You see Friends, it is important that we stand in solidarity with Indian farmers today. Not only are they the victims of unjust neoliberal policies, they are also on the front lines of the climate crisis as the climate they face is exceedingly unpredictable and dry, rendering crop failure a huge risk.
In the words of Vandana Shiva, "If governments won't solve the hunger-, health-, climate and democracy crisis, the people will"
Nederlandse vertaling:
Goedemiddag iedereen. Ik ben erg blij dat zowel Nederlandse klimaatactivisten als internationale socialisten zijn samengekomen om op te komen voor de Indiase boeren wier levensonderhoud ernstig wordt aangevallen door hun eigen regering. Een regering die voorrang geeft aan privatebelangen en de miljardairsklasse boven werkende mensen en specifiek boeren, boeren die de ruggengraat vormen van de Indiase economie en de wereldvoedselvoorziening.
Meer dan 100.000 boeren staken sinds vorig jaar november om te protesteren tegen een nieuwe reeks wetten die hun bescherming tegen minimumprijzen opheft en hen beschermt tegen "vrije marktterreur".
Deze nieuwe wetten zijn gemaakt om de miljardairsklasse van India te dienen, met name de aandeelhouders van Adani en Ambani, en zijn door de boerenbonden een "doodvonnis" genoemd. Ze zijn ontworpen om de bescherming van de minimumprijzen weg te nemen en maken boeren uiterst kwetsbaar voor de belangen van het grote geld.
Honderdduizenden Indiase boeren zijn sinds november vorig jaar aan het staken en de straat op gegaan om te eisen dat de nieuwe wetten worden ingetrokken, politieke gevangenen worden vrijgelaten en een gedecentraliseerd systeem van landbouwbestuur wordt ingevoerd.
De boeren protesteren ook VANDAAG tijdens de jaarlijkse parade op de Dag van de Republiek in Delhi. Vandaag marcheren ze dapper naar het parlement in Delhi om te eisen dat premier Modi zijn strafwetten onmiddellijk intrekt.
Tot nu toe zijn de demonstranten met traangas, wapenstokken en over buitensporig politiegeweld tegemoet getreden. Minstens één demonstrant is vandaag omgekomen toen zijn tractor kantelde toen de politie traangas afvuurde.
Helaas is hij niet het enige slachtoffer van door de staatsgeweld. In de afgelopen maanden hebben al meer dan 120 boeren het leven gelaten door toedoen van het politiegeweld dat werd aangewakkerd door de rechtse regering van de heer Modi.
120 dappere boeren zijn gestorven in de strijd voor een waardige toekomst.
Vrienden, het is belangrijk dat we vandaag solidair zijn met de Indiase boeren. Niet alleen zijn zij het slachtoffer van onrechtvaardig neoliberaal beleid, zij staan ook in de frontlinie van de klimaatcrisis omdat het klimaat waarmee zij te maken hebben buitengewoon onvoorspelbaar en droog is, waardoor mislukte oogsten een enorm risico vormen.
In de woorden van Vandana Shiva: "Als regeringen de honger-, gezondheids-, klimaat- en democratiecrises niet oplossen, zullen de mensen het doen".