Mobilization day
On August 21st, the Southern Rebels organize another giga motivational mobilization day in the Rebel Base in Eindhoven. For new rebels to get acquainted and, for example, follow the Non Violent Direct Action Training. For existing rebels to meet and do great things together. We can also restart the Relay action that was cancelled last year or start the conversation about the contribution you want to make to the national autumn rebellion from 11 to 18 October.
The climate disaster is closer than ever.
Are you worried as well?
Come to the third mobilization day of Extinction Rebellion (XR) in the south to get acquainted. Of course, there is a lot of room to ask questions and forge plans. There's music, you meet like-minded people and there's time for a snack and a drink. On the program among others: – the climate lecture with an honest story
a lecture on agriculture and climate
a workshop on the relationship between climate and racism
a training on campaigning for the climate
make your own banner or flag.
Join us! Let us know if you come via the QR code on the flyer.
21 August 2021 from 12:00 – 17:00
LAC Gebouw, Mathildelaan 1a, Eindhoven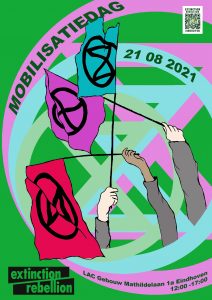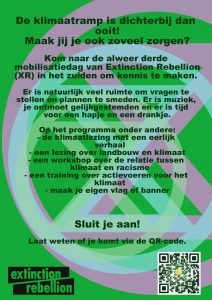 Venue
Rebelbase
Mathildelaan 1a
Eindhoven