Singing
We're gonna sing together to relax, get to know each other and, if you want, prepare a bit for actions. Everyone is welcome.
We'll start at 18:30 and we'll finish around 19:00, when the food is ready. Do you want to eat with us? Sign up!
The song: "Evening Rise"
Of the entire world population, only about 5% are indigenous peoples. They have been fighting for their existence for a long time, and for the well-being of the earth, too. In fact, 80% of all biodiversity in the world is protected by indigenous peoples. (Source : Food and Agricultural Organization of the United Nations)
The song "Evening Rise" is a translation of a song that, for as far as we know, originally comes from indigenous peoples in America, probably specifically the Hopi peoples (although we're not certain if Google was right about that). So by singing this song together, we also remind ourselves and each other how much we owe to indigenous peoples.
We can sing the song with up to 5 voices, but we can also keep it simple. We're just gonna have fun singing and we'll see what comes of it!
You can hear what the song can sound like on YouTube.
The text is is:
Evening rise, spirit come
Sun goes down when the day is done
Mother Earth awakens me
With the heartbeat of the sea
If you can read sheet music, you might find this interesting: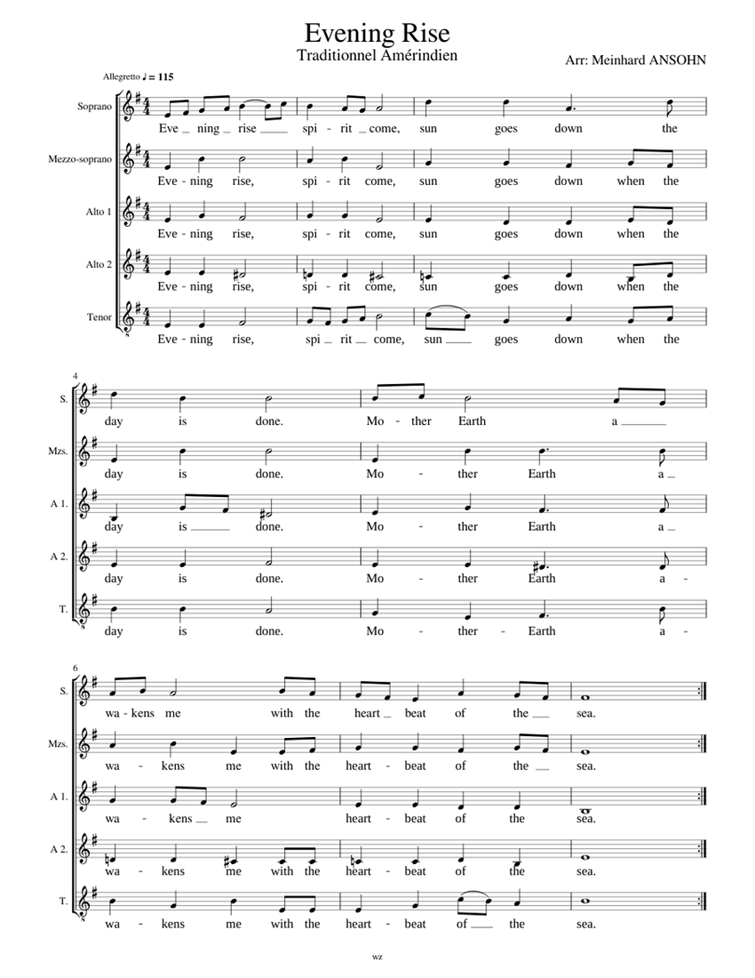 Venue
de Nieuwland
Pieter Nieuwlandstraat 93
Amsterdam